Are you ready to take your Spanish to the next level?
Our Travel Spanish Immersion retreat in Mexico City will help you do just that. Everyone knows that when it comes to learning Spanish, nothing beats immersion.
Join an exclusive group of up to 10 participants for a unique Spanish Immersion program at one of the most beautiful cities in Mexico.
If you're a traveler who struggles communicating with the locals, ordering food, asking for directions, and understanding the culture, this program is for you.
Over the course of seven days you will practice and develop the skills to become a confident traveler, all with the teaching and guidance of a certified language instructor and the help of the locals along the way.
This incredible experience will allow you to explore one of Mexico's biggest cultural and historical gems in a way most never will. Not only will you learn Spanish, you'll learn about the history of the places we visit, taste the food, chat with the locals, make friends, and improve your confidence.
Each day you'll get situation-focused lessons, and apply what you're learning during the trip. With May and Jim's help, you'll get realtime feedback and encouragement throughout the retreat.
Your Instructor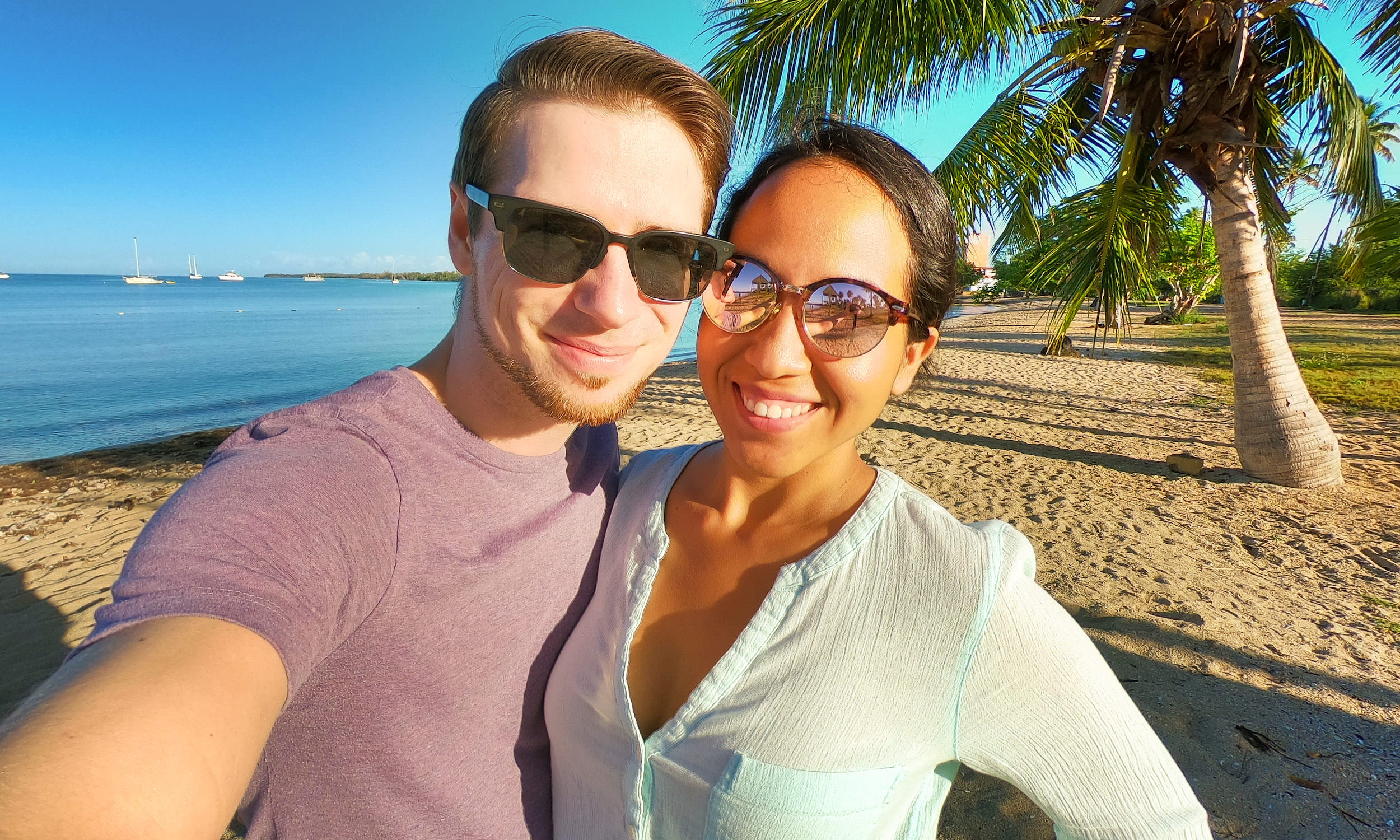 Jim and May are the founders of Spanish and Go, your resource for learning real-world travel Spanish.
May is a Mexican English and Spanish teacher who grew up in a small town in the state of Colima, Mexico. She has been teaching English and Spanish as a Foreign and Second Language since the age of 18. She graduated from the School of Foreign Languages in Colima in 2010. She has worked with students of all ages and hopes to be able to keep helping others learn around the world.
Jim is a gringo from Minnesota. In 2010 he decided he was no longer content with only being able to speak one language, so he set out to learn Spanish. As a result, he met his wife, May. As an added bonus, he never had to endure another Minnesota winter again.

Our Unique Spanish Immersion Program
The weeklong immersion with our teachers combines group sessions and real world activities where you'll use what you've learned immediately. All with realtime feedback. You'll also have time to recover after the scheduled itinerary with time to shop, sample the local food, and get to know about the history and culture of the host city.
An Authentic Culinary Tour
We combine course material with history and culture by taking you on a delicious and informative tour of the local food offerings. You'll learn about and get a chance to try real Mexican food made fresh. There will be tacos, and much more.
You'll also get to experience cultural staples like Lucha Libre, and Xochimilco - also known as the "Venice of Mexico."
Supercharge Your Confidence and Your Spanish
Your private driver will pick you up at the airport and we'll take it from there. One week later, you won't believe your transformation. The fastest way to Spanish fluency starts right here.
The Spanish and Go Immersion program has a one-time payment option for double occupancy (each participant), and a multi-payment option for your convenience.
Fees include:
All coaching and lesson materials throughout the trip.
Private driver pick-up and drop-off at the airport. Your driver will be right outside Customs.
Seven nights accommodation.
All breakfasts and lunches (vegan, vegetarian, and pescatarian options available)
Dinner (2 nights)
A series of informal immersion events to practice Spanish throughout the week.
All scheduled activities, tours, and entrance fees.
Local guides
What's not included:
Flights to/from Mexico
Meals and activities not mentioned in the itinerary
Travel insurance
Passport/visa fees
Optional activities
Gratuities/tips
Frequently Asked Questions
When will the Mexico City retreat take place?
The retreat will take place May 1st - 8th 2020.
Where will we stay?
We will stay at a modern house in Mexico City big enough to comfortably accommodate everyone on the trip. You will be paired up with another member of the group or together if you have a plus one. Please contact us if you would like to request a special accommodation arrangement.
Are we able to bring someone with us?
Yes, you may bring someone with you, but any guest must also register for the retreat separately even if the guest chooses not to participate.
Will there be formal lessons each day?
Yes, there will be formal Spanish lessons every day. We'll have group lessons and activities and then break up into smaller sections by skill level for more personalized material. Depending on the activities for the day some classes will be in the morning, and others will be in the afternoon.
How long will the activities be each day?
There are 5-6 hours each day of planned activities such as lessons, tours, and other activities. There will always be some free time so you can explore the city on your own or rest if you prefer.
Where should I fly to in Mexico?
Participants should fly to the Mexico City International Airport (MEX). Our private driver will be right outside Customs to pick you up the day scheduled for arrival.
Would this immersion trip be suitable for a beginner?
Because every program is individualized, we accept beginners, intermediate, and advanced learners. We do recommend at least going over Margarita Madrigal's Magic Key to Spanish to develop a foundation. However, all levels will be able to benefit from this trip because our teaching method focuses on the spoken language (very useful phrases and common expressions) instead of grammar.
What should we do about insurance?
We require all retreat members to show proof of their own travel insurance. Usually travel insurance coverage for our retreats are less than $100 and can save a lot of headache in case of an emergency. We recommend World Nomads for your coverage.
Spaces are limited, so signup now!
When we're full, this page will disappear.